Strategic Priorities of the Cross-Border Payment Industry: Key things that every remittance service provider should know
Dedicated to Cross-border payments service providers to help them understand if they are in line with the priorities to yield maximum benefits in the ever-changing competitive remittance landscape. Download now!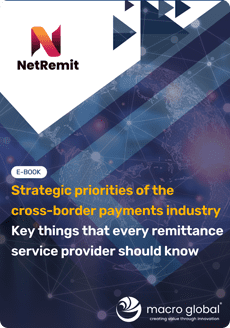 While the global economic recovery and the trend of remittances are both favourable, looking at the other side of the coin paints a quite different image. Information gathered from numerous Financial Institutions of differing sizes suggests there may be varying degrees of difficulty in the obvious obstacles we all face. 
As the landscape of payments is constantly evolving, firms evolving various strategies to come with long-term success. Companies are marching towards the greatest areas of focus over the past two years and where they see those priorities changing in time can bring momentous results.
In this e-book, we discussed the strategic priorities of the remittance industry that every remittance service provider should look into to yield maximum benefits in the competitive landscape. An invaluable look at what lies ahead! 
Overriding Legacy Cross-Border Remittance Platform Barriers with Netremit
The Evolution and the Future of Cross-Border Payments in 2022 & Beyond
Strategic Priorities of the Cross-Border Payment Industry