Overriding Legacy Cross-Border Remittance Platform Barriers with Netremit
Modernizing its cross-border platform has simplified an international money transfer process at a foreign bank in the UK, ensuring compliance and automation while increasing customer satisfaction.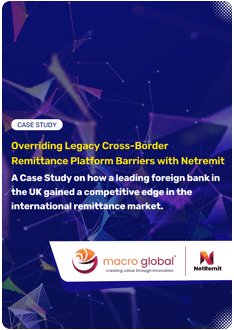 This compelling case study highlights how a leading foreign bank in the UK partnered with Macro Global to overcome significant challenges in their remittance operations using our flagship product, NetRemit. The bank faced difficulties in handling the growing clientele, managing cross-border transactions, outdated technology, manual processes, compliance issues, and fragmented data.
A unique approach of gap analysis, periodical updates, extensive subject matter expertise, and proven results has enabled NetRemit to transform the bank's operations, resulting in enhanced customer satisfaction, increased revenue, and a positive reputation.
What's next big in Cross-Border Payments? Opportunities lie ahead for every participant in the ecosystem
The Evolution and the Future of Cross-Border Payments in 2022 & Beyond
Strategic Priorities of the Cross-Border Payment Industry