Revolutionizing Fraud Detection & Compliance in Cross-Border Payments
A Case Study of a UK Bank Enhancing their Customer Onboarding with Effective AML/KYC Compliance Checks using NetRemit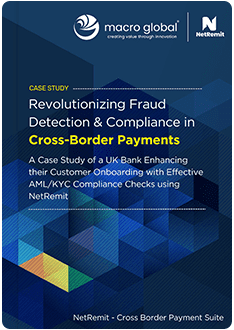 This case study is about the role of Macro Global, in revamping the technology capabilities and the compliance practices of a leading bank in the UK. NetRemit, a flagship Cross Border Payment Suite with extensive capabilities of being a cloud-based remittance platform effectively addressed the challenges of the bank in the streams of enhanced security, and streamlined customer onboarding.
The need to modernise banking operations according to the needs of the industry and the demands of the customers has ensured that the bank evolves with agility. This progress enables the bank to stay competitive, deliver enhanced services, and remain adaptable in a rapidly changing financial landscape.
The bank currently reaps the benefits of operational excellence, reduced fraud, and a competitive edge in the remittance sector, through the innovative adoption of NetRemit by Macro Global. This has ensured the bank's continued success in an evolving financial landscape and positions it as a forerunner in providing superior services.
What's next big in Cross-Border Payments? Opportunities lie ahead for every participant in the ecosystem
The Evolution and the Future of Cross-Border Payments in 2022 & Beyond
Overriding Legacy Cross-Border Remittance Platform Barriers with Netremit